Kovaleva, Walker and Homan grab last spots for Boost National women's quarters
CHESTERMERE, Alta. — The playoff picture is set for the Boost National women's division after Team Alina Kovaleva from Russia, Edmonton's Team Laura Walker and Ottawa's Team Rachel Homan secured the final berths Friday night.
Kovaleva clipped Winnipeg's Team Jennifer Jones 8-6, Walker chased Team Corryn Brown of Kamloops, B.C., 6-1 and Homan dispatched Team Hollie Duncan of Woodstock, Ont., 7-5 in an extra end during the last-chance C-qualifiers at the Chestermere Recreation Centre.
All three teams had to grind it out through the C-side with Team Walker going the distance starting 0-2 and winning three straight games within 28 hours and elimination on the line the whole way.
"Apparently, Team Walker likes a little bit of pressure," second Taylor McDonald said with a laugh. "We're pretty happy with how we're playing right now."
McDonald added: "We're pretty proud of how gritty we've been so far. We're hoping to dig deep and keep it going a little bit. I think it's something we've really worked on this year — just finding ways to win, sticking in there and not giving up."
Kovaleva clinched a spot through the C-side for the second consecutive Pinty's Grand Slam of Curling tournament after also taking the long road to qualify two weekends ago in the Masters.
"We kind of already laugh about it that maybe it's our tradition already, unfortunately," Team Kovaleva second Galina Arsenkina said with a smile.
Walker drew right to the button in the opening shootout to secure the hammer and made a great double to score a deuce off the bat.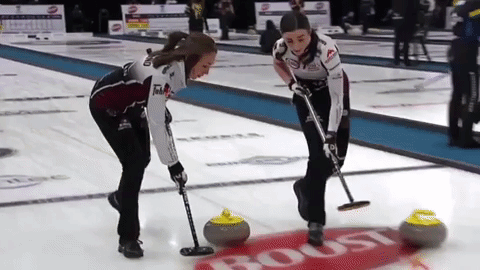 Brown, playing in her first GSOC top-tier event this week, couldn't navigate through the port in the second end and clicked off the guards to give up a single steal and Walker swiped another point in the third as well for a 4-0 hold on the game.
Brown faced three counters in the fourth and made the high-pressure draw to get on the board. Walker potted another pair of points in the fifth and Brown blanked two consecutive ends before calling it a night.
"I think we're finally finding our rhythm and getting our feet underneath us and we're carrying a little bit of confidence and momentum now into the weekend."
Kovaleva also secured the hammer to start and converted with a tap for two points in the first frame. Jones had to draw against four counters in the second end and grabbed a bite of the button to boot for her single point.
A cluster of rocks cluttered the four-foot circle during the third end. Kovaleva bumped her last rock in to score three and then took a commanding 6-1 lead heading into the break after Jones gave up a steal in the fourth.
You can never count out Jones, however, and the nine-time GSOC women's champion was able to score four points in the fifth stanza to get right back in it and close within one.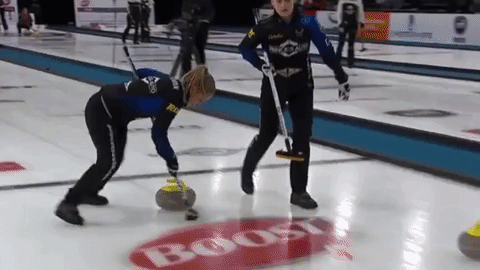 Kovaleva countered right back counting a couple of points in the sixth end and forced Jones to just a single in the seventh stanza to grab the hammer coming home up by two. Jones was unable to sit two counters after her last rock in the eighth end though and Kovaleva didn't need to throw her final stone.
"It's a very important and good step for us," Arsenkina said. "We struggled a bit in the beginning (of the tournament), so it definitely feels great."
Playing against the top teams in the world is also good practice for Team Kovaleva as they prepare to represent ROC in the 2022 Winter Olympic Games in Beijing.
"We're really happy to be here and have that practice because now it's quite difficult for us to get anywhere like in Europe or somewhere else," Arsenkina said. "We got the chance to get here and it's super nice practice for us before Olympics."
---
Boost National: Live Scores and Standings | Draw Schedule | Broadcast Schedule
---
Team Tracy Fleury of East St. Paul, Man., and Switzerland's Team Silvana Tirinzoni qualified undefeated at 3-0 through the A-side of the triple knockout stage Thursday to earn a day of rest.
Edmonton's Team Kelsey Rocque plus Team Anna Hasselborg and Team Isabella Wranå, both from Sweden, secured their spots via the B brackets with 3-1 records earlier Friday. Rocque downed Duncan 9-1, Hasselborg doubled up on Brown 8-4 and Wranå defeated Jones 6-4.
Fleury will play Walker, Tirinzoni takes on Kovaleva, Homan faces Hasselborg and Rocque meets up with Wranå in the women's quarterfinals Saturday afternoon at Noon MT.
UP NEXT
The triple knockout stage wraps up with the men's C-qualifiers Saturday at 8 a.m. MT. Winnipeg's Team Mike McEwen meet Team Peter de Cruz of Switzerland, Scotland's Team Ross Whyte play Switzerland's Team Yannick Schwaller and Edmonton's Team Brendan Bottcher go up against Team Glenn Howard of Penetanguishene, Ont.
Broadcast coverage resumes with the women's quarterfinals at 2 p.m. ET / Noon MT on Sportsnet, Sportsnet NOW (Canada) and Yare (international).
TRIPLE KNOCKOUT EXPLAINED
The triple knockout consists of three brackets: A, B and C. Teams must win three games in order to qualify for the playoffs. Each loss drops a team to a lower bracket until they lose three games and are out of the tournament. Two A teams (3-0 records), three B teams (3-1 records) and three C teams (3-2 records) advance to the quarterfinals.
NO TICK ZONE
Teams cannot tick guards off of the centre line while the five-rock, free guard zone is in effect during the eighth and extra ends.
NOTES
The Boost National is the second of five events on the 2021-22 Pinty's Grand Slam of Curling schedule and features 16 of the top men's teams and 16 of the top women's teams from around the world with a combined $300,000 prize purse. … The winning teams earning $33,000 plus spots in the season-ending KIOTI Tractor Champions Cup. … Triple knockout play runs through to Saturday morning. The quarterfinals and semifinals are also Saturday with both finals set for Sunday. … Tickets are available at boost.goigniter.com.