Hot start helps Dunstone glide past Gushue in Players' Championship
Team Matt Dunstone of Wadena, Sask., got off on the right foot and stayed one step ahead of Team Brad Gushue from St. John's, N.L., in the Princess Auto Players' Championship.
Dunstone counted three points in the second and never relinquished the lead during a 7-2 victory Thursday afternoon at Calgary's WinSport Arena.
The 2019 Masters champion Dunstone gambled in his game Wednesday against Winnipeg's Team Mike McEwen opting to concede the go-ahead single in the seventh to retain the hammer coming home. Things didn't go to plan and Dunstone needed to make a miracle shot zig-zag to the pin and got to the button, however, it still wasn't enough for shot rock.
"We had a tough one yesterday, just got snared there in the last end but huge to bounce back," Dunstone said. "Luckily, picking up a loss early in the event is never going to kill you and just really proud of coming back like we did today. Having full control of that game from the get-go."
The battle began before the match even started in the crucial pre-game draw to the button for hammer to begin. Gushue slid just a little deep into the back of the four-foot circle and Team Dunstone second Kirk Muyres was practically perfect landing on the lid and just 2.4 cm away from the pinhole.
Not only is that key to the game but will also serve Team Dunstone well should they find themselves in another tiebreaker scenario. Dunstone finished with a 2-2 record in pool play and a three-way tie for the final playoff spot last week during the Humpty's Champions Cup. Since only one tiebreaker draw could be played, Team Brad Jacobs of Sault Ste. Marie, Ont., and Switzerland's Team Yannick Schwaller battled for the No. 6 seed while Dunstone was eliminated.
"That draw to the button is big," Dunstone said. "Kirky put 'er right on the nail for us and that's one of the things we want to do better at this week. We're losing out on the old draw to the button tiebreaker last week, that was obviously a focus point for this week. Just to have that control early on in the game sets the tone for the game and a great draw by Kirky. He got us off on the right foot.
"Hopefully we can go do it a couple more times tomorrow and put us into a pretty good position for a playoff run here."
After a blank in the opening frame, disaster struck for Gushue as he felt his last rock in two going right out of his hands and left Dunstone an open hit for his trey.
Dunstone made a double takeout on his last in three but just grazed by the third one at the back and missed the triple allowing the 11-time Grand Slam men's title winner Gushue to recover with a tap for two points.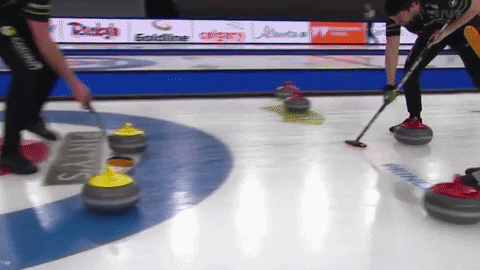 "I don't think you could have fit much in between there," Dunstone said. "I think we were all kinda shocked it didn't touch it and all it had to do was really touch it to get it out of the rings. It was a close one.
"That would have been nice to get that one, obviously, but kinda got what we deserved that end. I missed a bad one on my first one and to put us in that spot to begin with. To get away with only giving up two and still having control of the game, mission accomplished."
That was as close as Gushue would get with Dunstone matching with a deuce in five and stealing two in six. Gushue's first skip stone picked and changed lanes unexpectedly forcing him to have to make had to fire a triple angle raise on his last that missed the mark.
"I don't know what that one grabbed but whatever it was it was pretty aggressive," Dunstone said. "It obviously was a fortunate break on our end but you need those things to go your way to win games at these events.
"You look at our shot yesterday against Reid. We missed that by a millimetre. We get the little bit of a break today, too. The curling gods always find a way to even them out."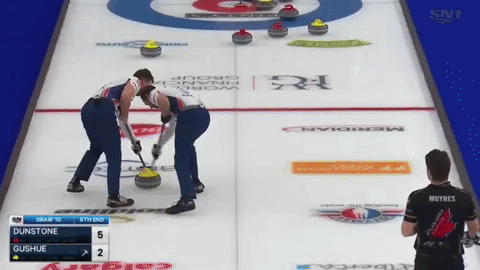 Both teams now hold 2-1 records in the second of back-to-back Pinty's Grand Slam of Curling events inside the bubble and closed to the general public. They also have crucial Friday schedules with two games each.
Obviously, winning the draw to the button will be key for Dunstone again as his club clashes with Toronto's Team John Epping (0-3) and Switzerland's Team Yannick Schwaller (2-1) but in terms of performance there's nothing the skip believes they need to adjust.
"It's just about getting rest tonight and we don't have to change anything out on the ice," Dunstone said. "We're in a good spot regarding that. It's mainly just making sure we're rested up and ready to go to battle tomorrow for two more."
---
Princess Auto Players' Championship: Scores and Standings | Draw Schedule | TV Schedule
---
Elsewhere in Draw 10, short-handed Team McEwen (3-1) rolled to their third consecutive win grabbing a 6-2 victory over Schwaller (2-1).
It's Team McEwen minus McEwen as the skip stayed home to be with his wife, Team Jennifer Jones lead Dawn McEwen, who gave birth to the couple's second daughter last week. Tyler Tardi of Langley, B.C., is filling in at third with second Derek Samagalski rounding out the lineup as a trio. Lead Colin Hodgson (personal) opted out of competing in the Grand Slam events.
Humpty's Champions Cup men's winners Team Bruce Mouat of Scotland are still running red and strong climbing to a 4-0 record to become the first to qualify for the playoffs with one round-robin game remaining. Mouat, who has won seven straight games since Sunday, settled for a single in the sixth but stole two in the seventh and held off Team Jason Gunnlaugson of Morris, Man., 6-3. Gunnlaugson dropped to 1-3.
Calgary's Team Kevin Koe (1-3) picked up their first victory while keeping Team Epping winless with a 7-4 decision.
One more draw is on the docket Thursday starting at 10 p.m. ET / 8 p.m. PT on Sportsnet East, Ontario, West and Sportsnet ONE with online streaming at Sportsnet Now (Canada) or Yare (international).
NOTES: The Princess Auto Players' Championship features 12 of the top men's teams and 12 of the top women's teams from around the world. … Both divisions are split into two pools for round-robin play with the top six overall qualifying for Saturday's quarterfinals. … The semifinals go down Saturday evening with both championship games scheduled for Sunday.