Let's Play Curling!! now available for Nintendo Switch
Take curling on the go or on the big screen at home as Let's Play Curling!! is now available for the Nintendo Switch.
Developed by Imagineer (Quest 64), Let's Play Curling!! puts the fun factor at the forefront with a take on the sport similar to Nintendo's Mario Golf series — minus the rage-quitting frustration. You don't have to worry about picks, brooms breaking or someone throwing a blue shell at your sweepers.
Players can choose their teams, both male or female, plus the nation they wish to represent. They can even select their rock colours.
Let's Play Curling!! features a "world championship" season mode as you climb your way to the top, a "vs. curling" mode for a one-off scrimmage with up to four players, plus "mission curling" mode where players have to perform tasks such as drawing to the button or completing a double takeout.
Oh, and did we mention there are penguins? Select the "variety game" mode to play penguin pool where you control penguins to knock other penguins into different pockets for points. There's also a variation of tic-tac-toe.
Best of all, if you're unfamiliar with curling, the game features a glossary of terms plus a tutorial to learn the basics of the sport. Even then, the mission curling mode is an excellent way to explore the different types of shots in your arsenal. While waiting for the game to load, it'll also feature pop-up tips to keep you informed.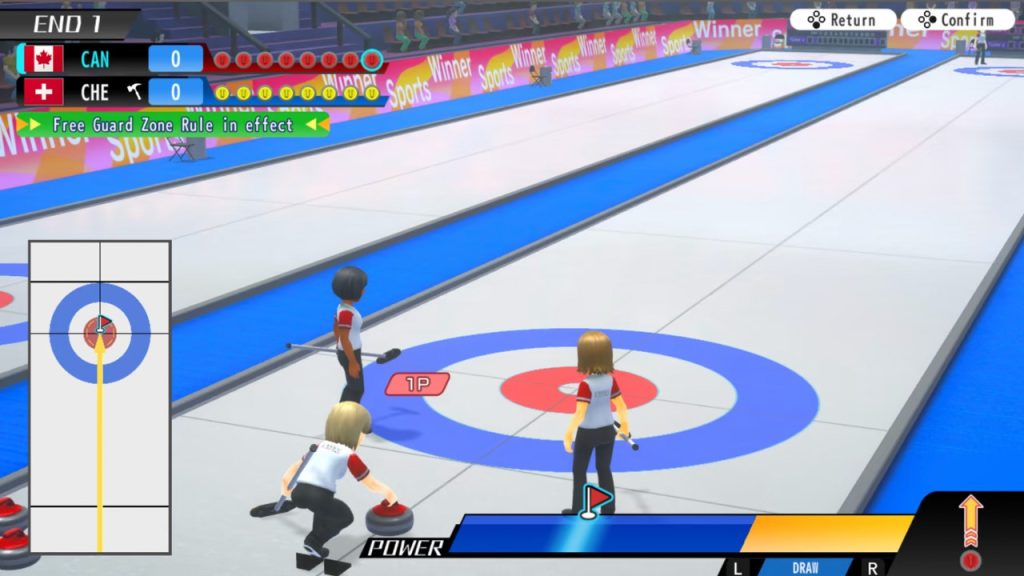 Throwing the rock is similar to swinging a club in Mario Golf with a power meter that you press once to activate and again to determine your throw. You can switch between draw shots (that you can also angle for come-around shots) and takeouts. It takes a few tries to get a handle of the power meter, but once you do you'll be drawing to the button with the precision of Brad Gushue.
After throwing the rock, you can mash the A button to sweep or you can mimic the sweeping action by shaking the Joy-Con controller and maybe get a bit of a workout in the process. Sweeping can help drag the rock farther in case you underthrew it, and the game even indicates where it may end up as a result.
Let's Play Curling!! is available on the Nintendo eShop for $39.99 CAD and is rated E for everyone. It's sure to be an open hit for both fans of the sport and those looking for a casual party game.
Note: Imagineer provided a free copy of Let's Play Curling!! for review purposes.