How Sweden's 'hockey factory' produced its greatest curler, Niklas Edin
Just over 525 kilometres north of the nation's capital city lies a small town that lives and breathes hockey.
Their team is known and revered worldwide for producing some of the game's greatest players, including a two-time Stanley Cup, world and Olympic champion whose most famous goal was immortalized on a stamp, a set of identical twins who played 18 NHL seasons together, and a recent Norris Trophy winner and arguably the best defenceman in the game right now who earned the Conn Smythe Trophy last season after guiding his team to the Stanley Cup.
It's more than just a "hockey factory" in the metaphorical sense as it's also an industrious blue-collar town known for its pulp mills. Its strong work ethic is the most likely reason why this place generates as many hockey stars as any Canadian city.
That's right. This isn't a town in Northern Ontario and this isn't a Neil Young song. We're an ocean apart on a different continent entirely. This is Örnsköldsvik, Sweden, far up north from Stockholm near the Arctic Circle, where its stars shine bright (possibly due to the short supply of natural sunlight) and ODR hockey happens under the glitter of the Aurora Borealis. O-vik, as it's known for short, is the home of Modo hockey and its long list of born and bred talent includes the aforementioned Peter Forsberg, Daniel and Henrik Sedin and Victor Hedman.
"It's so crazy that the chances of it happening are so small that it shouldn't happen," said Niklas Edin, the recently crowned five-time world men's curling champion. "It shouldn't be possible even. The number of really strong players coming out of that small club is nothing short of fantastic. I think that's kind of made for the special mentally in that whole city.
"Pretty much everyone that comes from there, they're used to good sports results and good athletes coming out of that city. A lot of the newspapers and stuff are about sports and a lot of people from there are happy to just cheer on any sports because from that city it usually goes well. When players and athletes come out of that city, they do well."
Hockey is what put O-vik on the map, but it has also produced its nation's greatest curler. Edin was born in Örnsköldsvik and grew up on a dairy farm in Sidensjö, an even smaller rural village just outside of town. Wikipedia lists Sidensjö's population at 399 — hiding under the already small shadow of O-vik, much like curling has under hockey.
Edin captured his record fifth world men's curling championship and third in a row for Sweden earlier this month defeating Scotland's Bruce Mouat 10-5 in the final at Calgary's WinSport Arena. He's also taken silver once and bronze twice at the worlds, finishing eight times on the podium in 10 appearances. Edin has earned three Pinty's Grand Slam of Curling men's championships: he became the first non-Canadian men's skip to win a title in the series at the 2016 Masters, followed that up two weeks later winning the 2016 Tour Challenge and then capped the season claiming the prestigious Players' Championship and Pinty's Cup in April 2017.
Edin has been to the Olympics three times, making progress at each, from finishing just off of the podium in fourth place at the 2010 Winter Games in Vancouver, to winning the bronze medal in 2014 in Sochi, Russia, to taking silver in 2018 in Pyeongchang, South Korea. The 35-year-old Edin is nowhere near finished — despite a run of 11 surgeries in 11 years — and appears poised to take that final step to the top of the podium at the 2022 Beijing Winter Games. Those back home in Örnsköldsvik are keen to follow his journey, too.
"We've always had good support from there," Edin said. "A lot of people generally in that city have an interest in sports: hockey, curling and whatever, especially when we do well. I still get a lot of people from there contacting me even though I haven't lived there for more than half my life."
What is it about O-vik that produces great athletes? Edin believes it's because a lot of people there grew up with parents, grandparents and their extended families with a "You work hard to put food on the table" mentality as well as never giving up and supporting each other as a team.
"I think that mentality is just something that is really strong up there," Edin said. "If it's stronger somewhere else, I don't know, but it's definitely really strong up there. That's really what creates really strong athletes: just working hard from a young age."
Edin played a variety of sports growing up such as soccer, tennis and orienteering. Hockey was on his radar and he played almost every day after school, but he didn't live close to a rink and wasn't part of a competitive team
"I was on the school team for hockey, so I was OK," Edin said. "I was nowhere close to one of the best, I was pretty small, but I was fast and I could shoot. I always loved hockey and always followed hockey as a kid. I used to trade hockey cards as well. I still have 15,000 hockey cards back home. I was a huge hockey fan and then I kind of grew out of it. I had so many other sports that I had to kind of choose.
"I don't follow it as closely anymore but I still have a huge respect for the sport. I know to be a really good hockey player, you have to be a top athlete. A lot of hockey players could do really well in basically any other sport. Huge respect for that sport. It was just one of those I had to choose, but if I could have played that too, I would have."
His meteoric rise in curling is befitting someone who would become one of the all-time greats. Edin didn't start curling until he was 14, joined the curling academy at 16 and at 18 was crowned world junior champion. Again, it goes back to that hard-working O-vik mentality and his well-round background in all sports.
"I had pretty good cardio numbers before I started curling," Edin said. "The amount of practice I could do was more than everyone else at the same age, no injuries or anything back then, so I could just do more training and never really got tired.
"When we really started playing a lot of curling, and still doing a lot of cardio and gym training as well, the results just went through the roof, basically. We improved so much in just two to three years there. We basically didn't really know the game at all 15 and world junior champs at 18. It was one hell of a ride. We improved a lot during those years and that just really set the tone. There really shouldn't be a limit to what we can achieve as long as we put in the work."
Edin was in a sports class during his teenage years as one of three curlers who were outnumbered compared to the roughly 15 of the 23 or so guys who were top hockey players. A proud early achievement for Edin was when he was honoured as one of the best in his class.
"Only three out of the 23 could get the highest degree, so when I was one of them being a curler, you could imagine a lot of the hockey people were like, 'What the (expletive)!?'" Edin said with a laugh. "A few of those players were really good. … When you're 15 in Sweden, you play this national event and that's like where all the players that play in that event will eventually play in the Super League in Sweden. That's the first stage of picking up the best talent in Sweden, so we had a few of those players in our class and still they didn't get the highest degree in sports because I got it instead.
"I think just that mentally was all through my younger age from when I started sports when I was seven or eight until I started the curling academy at 16. Then through those three years as well, I was always in a high-competitive class. Everyone in my class always did sports and we had a lot of good people in those classes. Just the number of competitions and number of hard-working people around probably never gave me a chance to lighten up on training."
Curlers in Canada tend to gravitate toward golf during the off-season, but for Edin the summer sport of his choice is pool. Team Edin has been sponsored by their local pool hall for the past few years and the skip can play pool there for free. Edin admitted he plays way more pool than curling as he basically takes the same approach to focusing on detail, aiming up all the angles and can get way more reps in over the same time frame.
You can see how pool has had an impact on his curling too, as he tends to get low to the ice when delivering his signature sizzling runbacks. That came from watching snooker.
"In snooker, you would see basically 100 per cent of the players have the cue pretty much attached to your chin," he said. "That's when I picked up on the technique to place yourself behind the ball and the cue to aim straight. I've always been decent at shooting as well. I also did military service and I was a good shot there, so I guess anything to do with aiming comes fairly naturally to me. … On my draws, I have the broom on my hip and I go up higher and on my takeouts, I have it down on the ice and I go down low to aim better."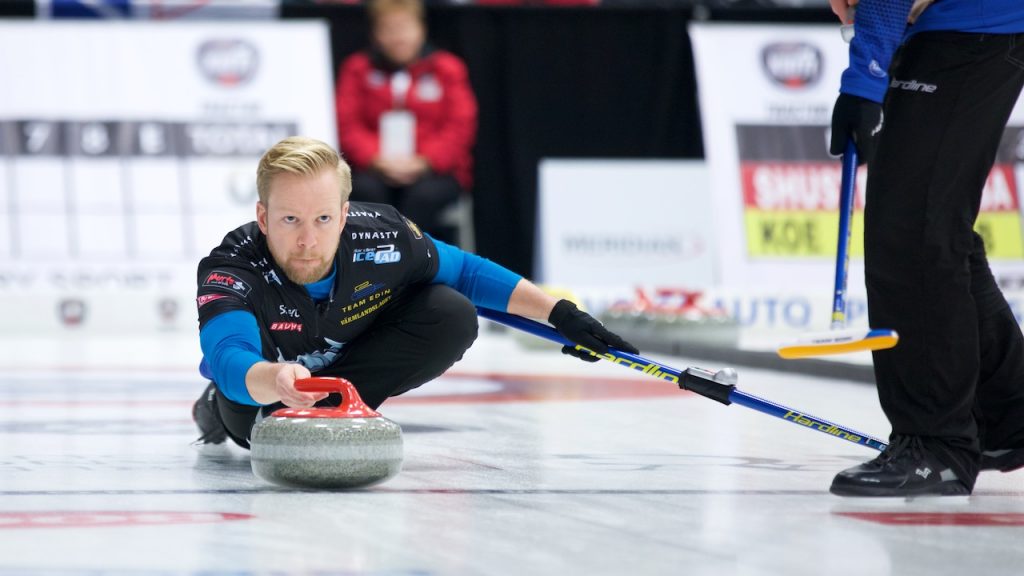 He's also started playing competitively two summers ago and was planning on ramping up his semi-pro schedule last year until the COVID-19 pandemic shut everything down. Edin said the players he faced saw that he was good at focusing during their matches.
"I'm a way better player when I compete in pool than I am when I'm there playing for fun," Edin said. "Like just going down for a Friday evening playing with a couple of friends, I could be pretty terrible. It happens to me in curling too."
Perhaps he's just hustling his friends or someone should put a pack of hockey cards on the line as, again, it's once the competitive juices start flowing that it brings out the best in him.
"It's a totally different ball game for me," Edin said. "I find a different kind of focus, then I'm good at winning. Even if I'm not playing as well as the opponent, I usually get the win somehow. I guess that is my strong side. I wouldn't say I'm anywhere close to the top players in pool, but I will still beat a few of them just because I refuse to lose."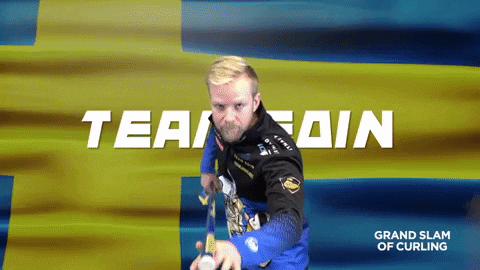 The pandemic shutdown also denied Edin the opportunity to defend the world men's curling championship last year. His team felt like they were in really good form, and he had a shot at the pair of records. Although Edin ended up capturing the gold medal this year, there was a much different feeling heading into the event and made it all that extra when they pulled it off.
"When we didn't get the chance because of COVID it felt like maybe we're not in that form anymore," he said. "Maybe we can't play as well as we did at the end of last season and it would just suck because it felt like if we could have played the worlds last year, we saw ourselves as pretty big favourites to win it. This year we really didn't know. There could be six different teams winning this event. Whoever has the best week can win it because now no one is in good form because we haven't competed enough to be in good form. …
"We played really well and it turned out that year hadn't really done much to our level of play. We could still play (the way) we wanted to play. I think it definitely made it feel very special. We didn't put a lot of pressure on ourselves. We just didn't really know what to expect but once we got out there and were playing we were the same team we were a year ago. Just felt really nice to come back and get that third title (in a row). It made it very special for sure."