Sharpshooting Team Einarson secure bye to Players' Championship semis
A two-win Friday not only powered Team Kerri Einarson of Gimli, Man., into the Princess Auto Players' Championship women's playoffs but all the way to the No. 2 seed and a bye to the semifinals.
The defending champion Einarson took her final couple group games in "straight sets" defeating Team Min-Ji Kim of South Korea in the morning and Team Tracy Fleury of East St. Paul, Man., in the afternoon by identical 6-1 scores at Calgary's WinSport Arena.
Einarson went 4-1 through Pool A with her lone loss Thursday in a 10-3 rout to Switzerland's Team Silvana Tirinzoni, who also finished with an identical record and the No. 1 ranking in the standings for the second bye. The demoralizing defeat didn't sink Team Einarson as second Shannon Birchard said they still had control of their own situation heading into the final day of pool play.
If anything the loss spurned them on as Team Einarson came out firing shooting 89 per cent as a unit in the morning and 93 per cent in the afternoon. Lead Briane Meilleur counting a perfect 100 per cent. Einarson threw at a 92 per cent clip while Birchard and third Val Sweeting were both scored at 90 per cent.
"It's really big for us," Birchard said. "We want to get that extra rest time and it's definitely nice to lock that in. It helps us a lot in these events. If you have a good draw to the button you're likely winning the hammer in most of your games, so that's all we aim to accomplish in our pre-game practice."
"We just want to carry that forward," she added. "We've got a long wait tomorrow until the semis, so just keep ourselves busy and keep the energy up heading into tomorrow's game."
It's a much different story compared to the last Players' Championship that took place in April 2019 in Toronto. Team Einarson went 2-3 through their group but with eight teams qualifying that year they managed to sneak in and managed to turn on their (Winnipeg) jets at the right time. Einarson defeated Sweden's Team Anna Hasselborg 5-4 to win her second Grand Slam women's title and first with Sweeting, Birchard and Meilleur.
"It's a lot of fun out here and we love the Slams for that," Birchard said. "Getting to see everybody again is awesome. We're excited to go out there for the semis tomorrow and hopefully get a chance to defend our title. I think we're really just looking to play well. We want to get some momentum for next week as well. That's all we're looking for at this point."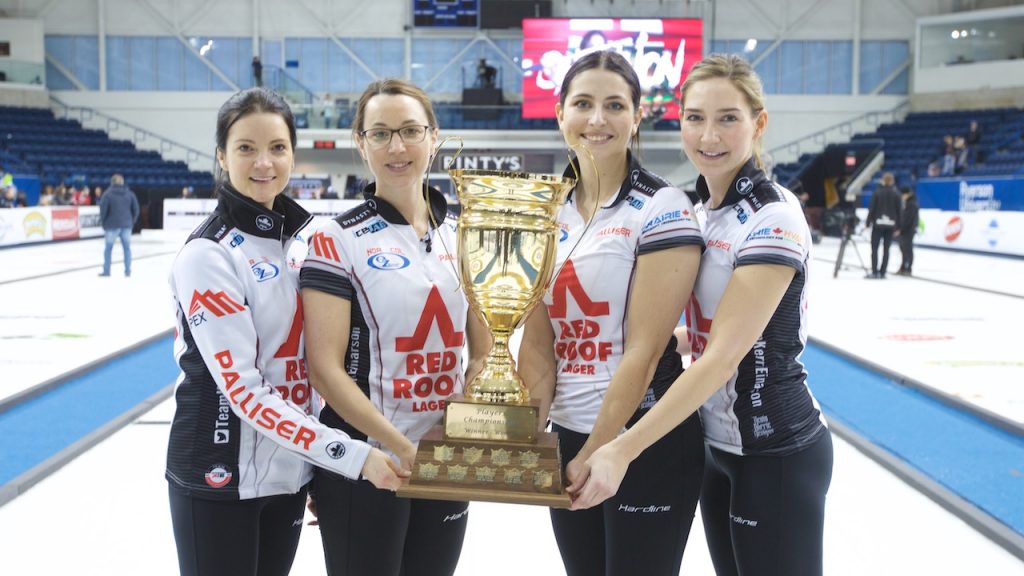 World collided as Einarson finished tied atop of the leaderboard with Tirinzoni and Sweden's Team Anna Hasselborg with matching 4-1 round-robin records. Coincidentally, all three teams will meet again next week in the world women's championship with Einarson representing Canada after successfully defending the Scotties Tournament of Hearts in February to begin the bubble schedule. Draw to the button shootout scores were used to determine ranking with Tirinzoni and Einarson earning the byes and Hasselborg having to play in the quarterfinals against Japan's Team Satsuki Fujisawa (3-2).
"We knew where we stood with the draw to the button going into this game," Birchard said. "We pinned it this time, so we just figured if we won, we were through to where we want to be."
It was Birchard who landed on the lid this time and pulling that off not only boosted her confidence but it also allowed the team to be able to focus on their own game and not worry about the action on the other sheets to decide their fate.
"It really gives you a good sense of the speed for the game and it definitely gives you a lot of confidence heading into the first end," Birchard said. "We've had some great pre-game practises out there."
Team Fleury, who had Chelsea Carey back as interim skip, were able to force in the first, however, Team Einarson limited their provincial rivals to a single in the second to reclaim the hammer for what turned out to be a game-changing third end. Einarson cracked the code for the game wide open with one of her signature moves: a double to score three points.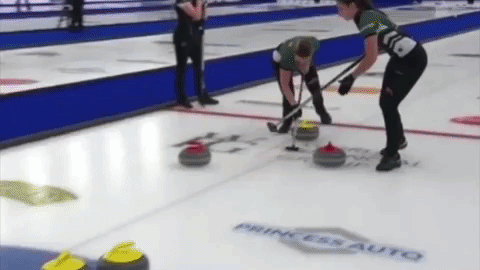 "We had a great end and unfortunately just came up a bit light on Kerri's first and Chelsea made a great one around our kind of two hooked rocks," Birchard said. "It was an all-or-nothing shot for Kerri and we had a lot of confidence in her making it. She's been making quite a few of those, threw it well and there you go."
Fleury missed the Scotties Tournament of Hearts as her young daughter Nina was diagnosed with infantile spasms in November. Carey filled in for that event and was given another opportunity here this week as Fleury planned to play in only the Humpty's Champions Cup.
The other quarterfinal matchup is set between Humpty's Champions Cup winner Team Rachel Homan of Ottawa versus Switzerland's Team Elena Stern (both with 3-2 records). Homan captured her record-extending 11th Grand Slam women's title Monday and a double bubble sweep would put her name into the history books again as the first to win all four women's majors and all six women's titles in the series.
Winnipeg's Team Jennifer Jones, Team Kim and Team Fleury all finished with 2-3 records and were eliminated.
Jones, who has won the Players' Championship six times, lost 7-3 to Hasselborg in the final round-robin women's draw while Kim fell to Tirinzoni 6-4 and Stern edged out Team Tabitha Peterson (0-5) of the United States.
The last round-robin men's draw gets underway at 10 p.m. ET / 8 p.m. local time with broadcast coverage on Sportsnet 360 with online streaming at Sportsnet Now (Canada) or Yare (international).
NOTES: The Princess Auto Players' Championship features 12 of the top men's teams and 12 of the top women's teams from around the world. … Both divisions are split into two pools for round-robin play, the top six overall qualify for Saturday's quarterfinals with the best two earning byes to the semifinals in the evening. … Both championship games are scheduled for Sunday.